As an Amazon Associate and affiliate with other third parties, SoftwareManagementTools earn from qualifying purchases and display advertisements.
Why Grammarly is Good?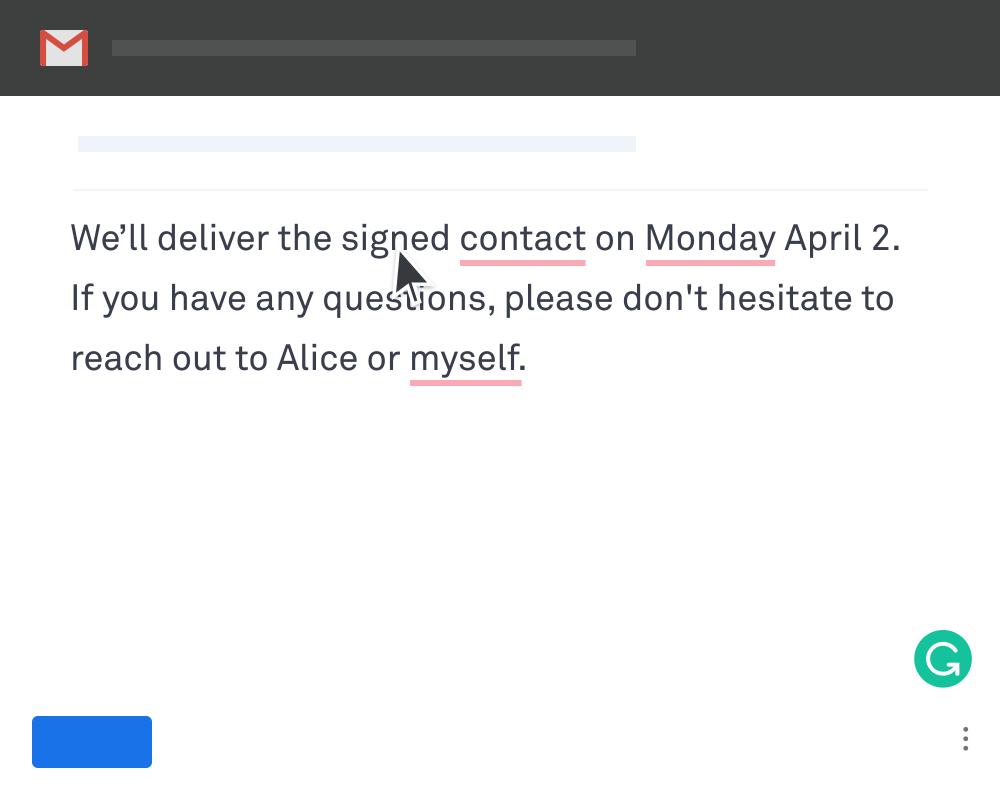 Grammarly is good because as a writing tool it helps you check for several types of errors. It detects grammar and punctuation mistakes from basic to advanced. It also provides real-time suggestions and guidelines on how to correct these mistakes. It's also a robust spell-check tool that keeps your writing incredibly flawless.
It's very easy to use and it's the most powerful online grammar checker out there.
It's available free for life or $11.66 per month for the Premium version if billed annually.
Grammarly is a fantastic tool that would improve your writing by checking the following:
Spelling Errors
Misspelled words speak a lot about you and it could be awkward if not corrected. The Grammarly's spell checker would make your writing is free from spelling errors.
Grammar and Punctuation
There are many grammatical mistakes and punctuation errors people tend to commit which can be shameful when they are left uncorrected. Grammarly would detect these terrors and would be given an explanation as to why it's wrong and tell you what you need to do to correct it.
Plagiarism
Grammarly checks for plagiarism by comparing it to billions of articles across the web. This would be advantageous if you do a lot of writing and it would ensure your work's originality.
Writing Style
It also enhances your writing and the tone of your writing. It gives better word suggestions to make your writing more captivating and concise. The premium version will also check vocabulary, tone, run-on sentences plus more than one hundred additional features.
Another great feature is its ability to check for impoliteness and insensitive language. This is especially important since it could make all your writing appropriate and reader-friendly and comprehensive.
Who uses Grammarly?
There are 20 million people worldwide who use this powerful tool every day. Grammarly was created for people who want their writing to be error-free including bloggers, authors, students, non-native speakers, proofreaders, copywriters, journalists, and all writing enthusiasts.
It would be perfect for anyone who wants to write the perfect email, social media post, resume, cover letter, report, presentation, or thesis.
Grammarly would make your writing clean, easy to read, and mistakes-free.
How Does Grammarly Work?
Grammarly automatically detects errors in your writing and there are three ways that it can be used:
You can copy and paste the text into the Grammarly editor.
Install the free Grammarly browser extension for Chrome, Safari, Firefox, or Edge. If you have a WordPress site, this would allow Grammarly to show corrections as you're writing the article.
You can download a piece of writing as a Word document and upload it to Grammarly's editor. Or write directly in Word and Grammarly would check it as you write.
Is it Worth Paying for Grammarly?
If you're looking for a grammar checker that will make your writing life easier, there's no ither but the number one Grammarly.
There's so much to like about this tool from its ability to correct grammar mistakes, spelling checks, and punctuation, to its incredibly accurate plagiarism checker, which compares your work to over 16 billion different sources all around the Web.
They do offer a free grammar checker that provides access to features like the Grammarly Chrome extension. But to unlock extra stuff like Grammarly plagiarism, you'll eventually have to upgrade to Grammarly Premium.
Why upgrade to Grammarly Premium?
Grammarly Premium can be used in several ways:
On their website by uploading or pasting your files into a dashboard
Grammarly plugin as a Chrome browser extension
As a Microsoft Word extension
An Outlook app for Microsoft Office
Grammarly desktop app on Macs
Grammarly extension for Google Docs
As an app for your iOS or Android device
Grammarly plagiarism checker will save you from improper citations
With multiple ways to use Grammarly, it's no wonder it's the best grammar, punctuation, and spell-check checker system in the world.
After Thoughts
The free version is essentially just a very basic grammar checker and a spell-checking software. And it's the only real-time free grammar, punctuation, and spelling checker in the world.
Yes, it's great for enhancing your writing and a lot more.
With Grammarly, great writing is enhanced, precise, and simplified with bold, clear, mistake-free writing that's AI-powered.