As an Amazon Associate and affiliate with other third parties, SoftwareManagementTools earn from qualifying purchases and display advertisements.
How Grammarly Apps Works?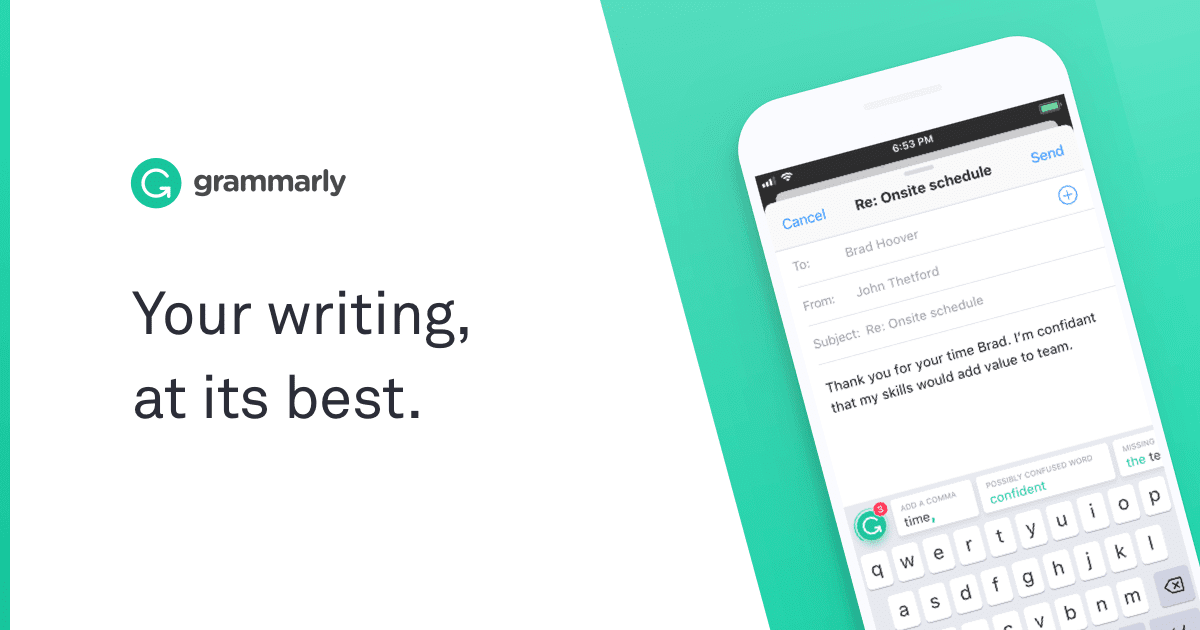 When people generally write it's not only spelling errors they need to watch out for. An app that could provide everything needed in writing is needed. The number one app to do that is Grammarly.
Grammarly is a writing corrector app that would ensure that everything you create and type in is not only correct typographically but it's also grammatically coherent that would make it clear and easy to read. It's comprehensible for everyone!
It works with an algorithm flag that identifies potential issues in your text and makes context-specific inputs to help with your grammar, spelling and usage, wordiness, style, punctuation, and even plagiarism.
This software would also explain and justify the reasons behind each suggestion, so you can make the much-needed correction for every issue in your writing.
Grammarly is also easy to use and you could start by installing it. Here are the steps needed:
Install Grammarly's in your free browser extension and it would help you write correctly on nearly every site on the web including the social media platforms you use.
You would instantly see the green Grammarly logo in the bottom right corner of every text field that is being checked by Grammarly.
You could also copy and paste any English text into Grammarly's Editor or Grammarly's desktop app.
To check your writing directly in Microsoft Office, you may use Grammarly for Microsoft Office on Windows or Grammarly for Microsoft Word on Mac.
You could install Grammarly for iOS or Android to ensure everything you write on mobile is mistake-free.
It's also available for iPad's to access the Grammarly Editor directly from your iPad.
How to use Grammarly on the following: Web, Online, and Programs
There are multiple options available for you to use Grammarly. It could check almost any platform you use that includes online, social media, inside important programs, and more.
Grammarly Editor is free and it's an online editor that would allow you to store all your documents, have access from any computer that has the internet, and would provide you with all the basic features of Grammarly. You could type in it or you could upload your documents to it.
Browser Extension is also free and it could be integrated with Chrome, Safari, Firefox, and Edge. As stated above just install the Grammarly extension into your web browser and start getting direct Grammar assistance and suggestions. Since it's in your browser extension it would automatically check your comments, posts, tweets, Facebook posts, and almost everything!
Grammarly for Microsoft Office PC is free for people who use Office and use Windows, this is your best option. It's compatible operating systems are Windows 7, Windows 8, Windows 8.1, Windows 10. And could work with Microsoft Office of years 2007, 2010, 2013, 2016, or 2019.
Grammarly for Microsoft Office can be used with an Office 365 subscription as long as your plan provides one of the supported Microsoft Office versions.
Grammarly would not work with the Starter version of Office, with Vista, or with XP. The add-in supports Microsoft Word on Mac and Windows computers. Microsoft Outlook is supported on Windows only. PowerPoint and Excel are not supported by Grammarly.
Grammarly for Your Phone is free and if you're on the go and you use your phone for writing then there's a keyboard for that in Grammarly Keyboard for iOS or Android. It will check all your writing through your keyboard even when you're away from home.
Grammarly for Your Desktop is likewise free and no need to copy and paste. All you need is to drag and drop files into the Grammarly icon on your desktop and get your works checked instantly.
Grammarly for Microsoft Word on Mac – To run Grammarly for Microsoft Word on Mac, your computer must have a compatible version of Microsoft Office which is version 16 or higher. To check the version, please open Word, choose the Word menu, and click About Microsoft Word. Do note that Microsoft Outlook for Mac is not currently supported.
Grammarly for iPad – Grammarly's writing app could also be used in your Ipad for free. It would automatically detect grammar, spelling, punctuation, word choice, and style mistakes in your writing. It's easy to use as you could just copy and paste any English text into Grammarly's Editor or install Grammarly's free browser extension for Chrome, Safari, Firefox, and Edge, and Grammarly will help you write correctly everywhere you might be.
As you could see, Grammarly comes with a free version for life and upgraded paid versions in Premium, Business, and Edu plans.
Grammarly has a lot more freebies!
Grammarly Explains – This is included in the free version. Aside from underlining your mistakes in red, it also gives you the reasons why they are and gives you suggestions and pointers aside from the corrections alone. That's awesome! Why? Because you learn and at the same time you're aware so you could avoid committing them again.
Reports – Also included in the free version. You'll get reports that gauged your accuracy in grammar, spelling, plagiarism, and vocabulary. It would help you become even better!
Language Choices – Available too in the free version. You pick between American, British, Canadian, and Australian English dialect by navigating to your profile and changing your language preference as needed. You could switch it back and forth.
Plagiarism Checker – It's available with the Premium version of Grammarly and every writing of yours would be checked all over the internet for duplication. It would ensure that your work is original.
Vocabulary Enhancement – Also available in Premium and it would help you to expand the range and depth of your vocabulary and would help you write more concisely and uniquely. It would eliminate redundancy and the use of the same words.
So with all fantastic features, Grammarly cost comes in free forever and a paid upgrade called Premium for only $139.95 annually that equates to only $11.66 a month.
Premium is worth it and the free version does the basic grammar, spelling, and punctuation checks.
Be great in your passion for writing and with Grammarly you'll have better word usage and options, redundancy is omitted, no more long and wordy sentences! Be a writer with no misspelled words, wrong sentence structure, no plagiarized content, and no more vague and boring content!
After Thoughts
Grammarly is the coolest grammar checker that's entirely satisfying and accurate. No one comes close to Grammarly at all.
You wouldn't want to settle for anything less after using Grammarly. And you could count me in!