As an Amazon Associate and affiliate with other third parties, SoftwareManagementTools earn from qualifying purchases and display advertisements.
FreshBooks Integrations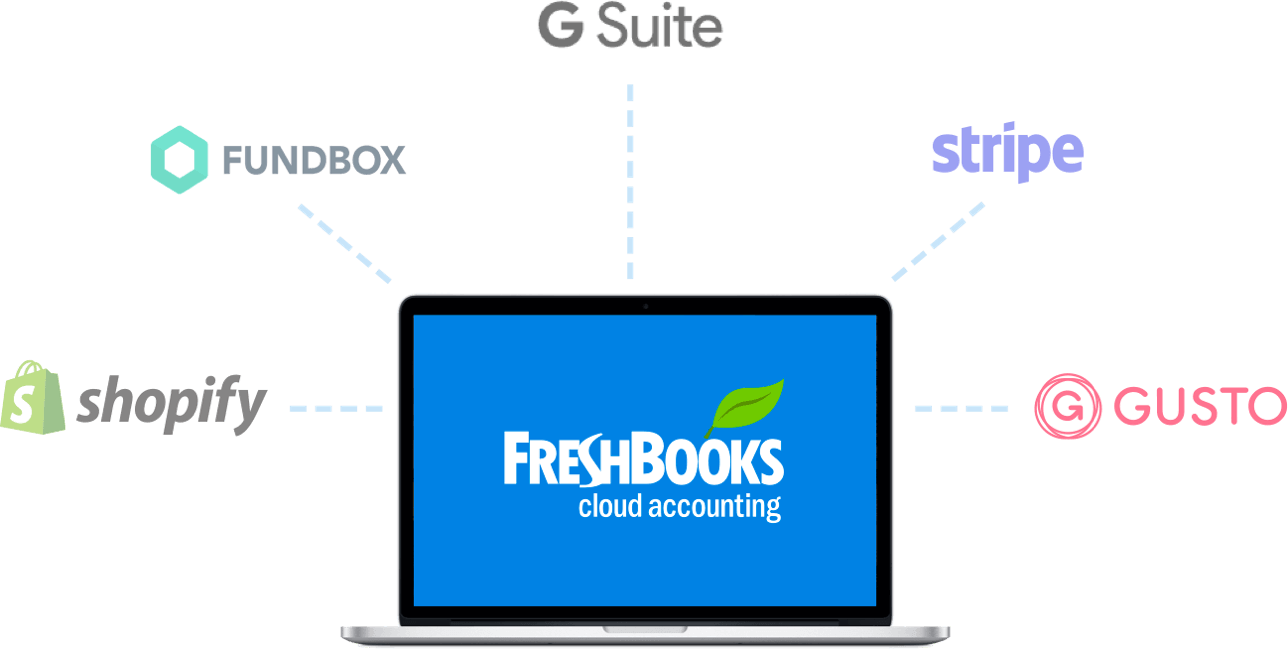 FreshBooks offers a well-rounded, intuitive, and attractive double-entry accounting experience that supports invoices and estimates, expenses, time tracking, and projects.

It's the number 1 accounting software that's cloud-based with more than 24 million users around the globe in 160 countries.

It has the foresight of the needs of freelancers and smaller businesses as well as medium and large-sized enterprises better than its competitors.

It does help in your all-around accounting needs like Invoicing, Expenses, and Time Tracking but you might some add-ons that that would help your business become even more efficient. It might be to track mileage, a flawless payroll functionality, or to send your clients' wonderful appropriate emails.


FreshBooks Integrations can make it possible for you! With it, you could connect your account with your favorite apps, which means that your business will run faster and easier.


Here are examples of the integrations you might add-on to your FreshBooks account. You'll have the liberty to choose which ones you'll need.

Customer Management

It would help you manage your contact lists and it would give you a high client engagement to the fullest.

Customer Support

Want to provide more incredible support to your Clients? You could integrate with apps like these that will turn you into your clients' world-class support.

Expense Tracking

It would help you with receipt storage and it's an easy way to track mileage too all over the world.

Lead Capture

With apps that offer this, you can easily capture your Clients' information and forms to create Invoices in FreshBooks.


Marketing

It's an extra arm and tool to find more new ways to grow and connect with your target market and customer base.


Online Payments

One of the many benefits of FreshBooks is helping you get paid faster. Some apps would even help make things even quicker!


Payroll

Wherever you may be, you could track and generate payslips for your payroll.

Project Management

Integration with the right project management app will produce a collaborative environment for you, your coworkers, and your Clients to work on Projects more efficiently. If you need a hand with an organization, it will save the days for you.

Proposal Design

FreshBooks offers good proposal features but if you want to put more zest into your proposals you could integrate with an app that specializes in that.

Time Tracking

While FreshBooks' Time Tracking feature is one of the best, your business might need a more tailored unique workflow.


Utilities

There are apps designed to optimize your workflow. You might need to request document signatures that would allow you to schedule your time more effectively.
Here are some integrations with FreshBooks.


The Square Point of Sale app is available on compatible Apple iOS and Android devices. The Square Point of Sale app is free, but you may be required to set up billing info with Apple, Google, or Amazon to download apps from their stores.


Square allows business people to accept mobile credit card payments via a plastic dongle that can be inserted into the port of a phone. Square, works like a credit card company that gets a cut of any transaction at 2.75% per swipe or 3.75% plus 15 cents for manually typed transactions.

It also has other products like software and point of sale services that make it function like the cash register of the future.

For FreshBooks to integrate with Square, a 3rd party app called Zapier or a similar app is needed.

Where to buy:
Shopify is the best eCommerce platform that has everything you need to sell online, on social media, or in person. One platform with all the eCommerce and point of sale features you need to start, run, and grow your business.
Due to the impact of COVID-19, Shopify is now offering an extended 90-day free trial period.
How to integrate Shopify with FreshBooks?

Syncing with Shopify means bringing all products, items, orders, invoices, and payments received into FreshBooks.
Shopify has been tested and proven to work great with FreshBooks. Integrate Shopify to automatically sync your clients and orders to FreshBooks that would make sure your business and accounting information is all in one place.
The initial sync might take a while especially if you have a lot of Shopify orders. FreshBooks would email you when the sync is complete.
Check here how to integrate with FreshBooks and Shopify.
Where to buy:


Stripe provides a simple, easy, and secure way to get paid online. With Stripe there is no need for you to have a merchant account. You can just get set up and start collecting payments in minutes. Stripe takes care of everything including storing your client's credit card numbers, handling subscription-based billing, and payouts to your bank.


Stripe payment app integrates with FreshBooks to give you an easy way to accept payments online. Simple pricing: 2.9% + 30c. Get paid in 2 days.

Connect your FreshBooks account to Stripe to give your clients easy ways to pay you and start getting paid 2x faster. With Stripe, your payouts are quicker. You could also accept payments in your customers' currency.

How it Works with FreshBooks?


The experience for your customer is completely convenient since they can pay you within the FreshBooks platform using their credit cards without ever being redirected to another site.

How To Get Started?

Log into your FreshBooks account and click on the image or circle icon in the top left corner.
Click on Accept Credit Cards
Click on Connect.
Stripe will ask you to fill out your required information, or you can click on the already have a Stripe account button in the top corner to sign in to your existing Stripe account.
Once done, close the tab and return to your FreshBooks account.
Where to buy:
PayPal is currently not supported in FreshBooks but you could integrate with it through Zoho in 57 ways.

There's also an ongoing development of FreshBooks and Paypal via Automate.io and it would be available soon!
Where to buy:




QuickBooks is also an accounting software package developed and marketed by Intuit. QuickBooks products are designed to cater to small and medium-sized businesses and offer on-premises accounting applications as well as cloud-based versions known as QuickBooks Online that accept business payments, manage and pay bills, and payroll functions.

FreshBooks and QuickBooks are direct competitors but FreshBooks has been awarded 2019 best accounting software and has a higher customer approval rating from 97-99%.


Maybe, we are all thinking why is there a need to integrate? But FreshBooks and Quickbooks integrations are possible with Skyvia if there's a need for it.

It offers a convenient and easy way to integrate QuickBooks Online and FreshBooks with no coding needed.


FreshBooks integration with QuickBooks is possible in several ways at Skyvia. If you need to load data in one direction, from QuickBooks Online to FreshBooks or vice versa, you can use Skyvia import. For loading data in both directions, Skyvia offers powerful data synchronization.

FreshBooks sync with QuickBooks perfectly through Skyvia.

Where to buy:
Integrate Squarespace to FreshBooks to automatically sync your clients and orders to thus ensuring your business and accounting information is all in one place.
Squarespace is an easy-to-use solution for anyone looking to create a beautiful website. Design a professional website, online store, or portfolio to help your business grow faster.
Create a website that would showcase your ideas to life. Start with any website template and customize it to fit your needs, whether you're making a portfolio, blog, or online store.
How it Works With FreshBooks?

Syncing with Squarespace means bringing all products, items, orders, invoices, and payments received into your FreshBooks account.
How to Connect?

Click here to connect the integration.
Sign in to your FreshBooks account and choose the business that you would like to connect with.
Next sign in to your Squarespace account.
Click on "Connect in Settings" and then choose to "Link account" under the Squarespace header.
There is an option for you to select your client's name on the Settings page. All imports from Squarespace will be synced under this client name.
Also, choose the Squarespace eCommerce business you would like to sync to your FreshBooks account.
Where to buy:




Wix.com is a leading cloud-based development platform with millions of users worldwide. We make it easy for everyone to create a beautiful, professional web impact.

A way to promote your business, showcase your art, set up an online shop, or just test your new ventures. The Wix website builder has everything you need to be able to create a beautiful personalized and high-quality free website.

Connect your FreshBooks account to your Wix store and it would save you hours of manual data entry.


When an Order is created in Wix, create an Invoice in FreshBooks.

Have Invoices created in your FreshBooks account for all orders made in your Wix site. Retrieve Order from Wix by setting retrieve orders with a chosen payment status, map tax codes, create new Items, and send payments to FreshBooks.

Sadly, third-party app Invoicing and Expenses by FreshBooks has been removed from the Wix App Market.

However, you could try using Zapier. And, FreshBooks and Wix Integration will be available soon at Automate.io.

Where to buy:
After Thoughts
FreshBooks as of today could be integrated directly to 260 apps and 2,000 apps using a third-party application.
It continues to thrive consistently because it never stops to update, innovate, and to anticipate ahead what it needs to put on the table of all its 24 million users in the world.
Nothing is impossible to integrate with FreshBooks!